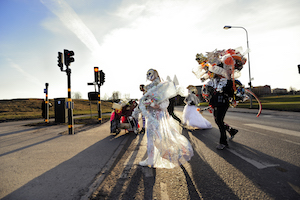 Valeria Montti Colque (b. 1978, Sweden) lives and works in Stockholm. She has a master's degree in Fine Arts at Stockholm Arts Academy, and she has participated in both solo and group exhibitions around the Nordic countries and South America.
Valeria Montti Colque interviewed by Denis Romanovski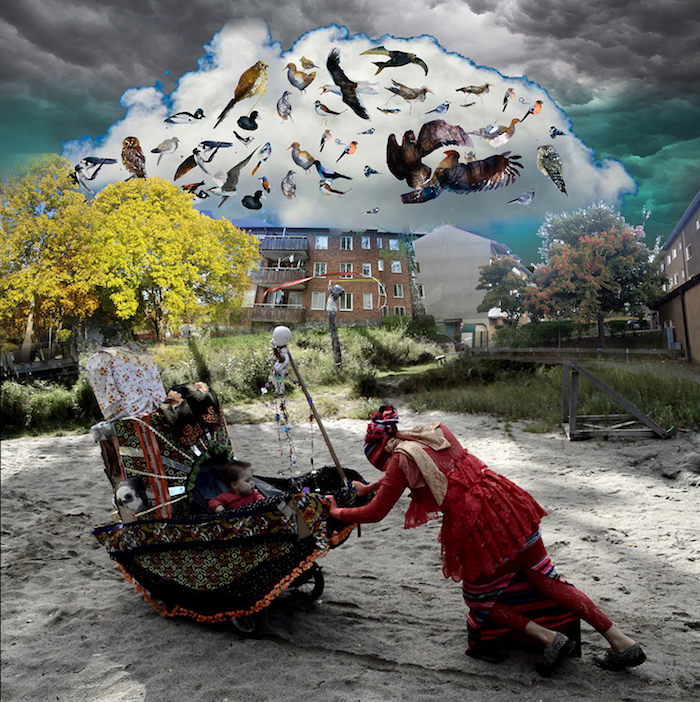 Valeria Montti Colque. Boat Trip Cloud. Photo collage. Photographers: Valeria Montti Colque, Juan Castillo, Ulrica Zwenger.
What is the background of the stories, characters and costumes in your works?
It is a place for dreams and ambiguous imaginative stories. I get inspiration from everyday life, nature, different religions and cultures, myths, tales, music and movies that I blend together into a sort of a 'creative soup'. Subjects like love, fear, longing, dreams, rootlessness, as well as power structures and pain are central to my work. I tell my stories through using costumes and characters, such as Mountain, Jokerita, Rainbow, Cloud, Black Wild Cloud or El Cocinero.
My earlier works were mostly about rootlessness but now it has become more important to stop feeling rootless and get rooted instead.
Each individual is a universe. Each body is a planet.
You often perform these created identities as appearances, processions, rituals, etc. What does it mean for you to embody these characters? How is it connected to your own life?
It is a way to embrace, understand and nurture feelings that are very dear and meaningful to me. But at the same time I want to convey something important to the others and change things: by shaping these feelings and experiences into characters. Only then one can touch them and look them in the eyes. In return, they can walk their own path in order to find a change or an end, for example.
I am a mixture of many different cultures, some of which are unknown to me. Yet I make them mine, in my own way, through my imagination, reading about them or things that come simply from my heart.
The concepts of processions and rituals originate in my mother's faith, but I have given them my own interpretations. Rituals have always been part of our lives. Also, my grandfather was Aymara, although I have never met him.
What is your driving force in work?
I love to create as it is a place where all dreams are free.