Press release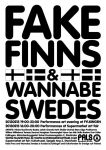 Fake Finns and Wannabe Swedes is a bilateral exchange project contributing to the discussion about cultural integration, identity and nationality in today's globalization in two neighbouring countries. The original idea of the project is to break the closed-minded image of the foreign/immigrant artist as an exotic folk dancer or exchange student. It is time that we realize how active and influential the "Fake Finns and Wannabe Swedes" are, and that these artists have the ability to provide fresh viewpoints that our societies really need!
We claim that performance art with its direct and flexible language, operating in the "here and now", closely encountering the audience, is a perfect tool to reflect on these matters.
In Finland the Fake Finn Festival has already existed since 2011.
"Fake Finns and Wannabe Swedes" is a new collaboration between New Art Contact in Helsinki, Fylkingen and PALS (Performance art links festival ) in Stockholm, and PAiN (Performance Art in Norrbotten) broadening the perspective, extending it with artists in Sweden with an origin from other countries - "Wannabe Swedes".
The project will take place at Fylkingen and Supermarket in Stockholm and will continue in Helsinki at the Galeria Augusta:
Fylkingen the 13th of February
19.00 Performance program with Fake Finns and Wannabe Swedes.
Supermarket art fair on the 15 th of February at Red Spot
16.00 – 20.00 performance program
20.00 public discussion on the topic "The Advantage of Being a Foreign Artist" with artists from the project "Fake Finns and Wannabe Swedes" and Rasoul Nejadmehr from the Swedish arts council.
Helsinki the 4th to 7th of april at Galeria Augusta.
Performance program with Fake Finns and Wannabe Swedes.

For more details follow our web updates at: www.fylkingen.se and www.palsfestival.se. A detailed program will be available there from the 5th of February.
List of participating artists:
Sweden:
Dror Feiler
Dorinel Marc
Katri Shaller
Nongkran Panmongkol
Hiroko Tsuchimoto
Sofia Breimo
Finland:
Tomasz Szrama
Olga Prokhorova
Willem Wilhelmus
Hyun Joo Min
Baaba Jakeh Chande

Fylkingen, Münchenbryggeriet, Torkel Knutssonsgatan 2.
Free entrance!
Supermarket, Kulturhuset, Sergels Torg.
Entrance for Supermarket 120 kr.
---


Fake Finns and Wannabe Swedes is funded by
Fylkingen and Kulturfonden för Sverige och Finland