Baaba Jakeh Chande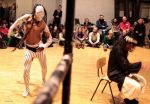 Baaba Jakeh Chande is a performanceartists and sculptor originating from Zambia, living in Finland. His artistic production currently ranges from performance to site-specific installations, environmental works and sculpture. Recent work, performances in particular is influenced by change, the contrasts and similarities he encounters in the two lifestyles he has, Zambian and Finnish. He uses materials that are directly connected to daily human life to evoke memories around personal or collective histories, tragedies and hopes. His body and dreadlocks are the embodiment of his life but he also uses them as framework for playing with the notions of transfiguration and identity, at the same time, the creative dimension of performance becomes a permissive instrument for communication.

Hyun Joo Min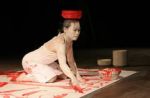 Hyun-Joo Min is an artist originating from Korea, living in Finland. Excerpt on Hyun-Joo Min's work by Johannes Meinhardt: In her work Hyun Joo Min is interested especially in the independent or even autonomous reality of the body which the consciousness in nearly all cases ignores, and which evades the consciousness by its becoming classified to be unimportant and insignificant. Everything which touches the sensual und libidinous body enters into a relation which has nothing to do with recognizing or comprehending; it enters into an affective and libidinous relation which draws the borders of the body anew again and again
Olga Prokhorova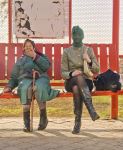 Olga Prokhorova is an artist originating from Russia living in Finland. She studied Performance Art in Sweden (Haparanda) 2007-2009. Olga is working with Perfomance Art, installations and visual arts in Russia, Sweden and Finland. With a background as journalist her main-theme is gender, questioning of classical beauty canons in society and breaking comfortable patterns of behaving.
Portraying a moment of life, creating a caricature - there is a big part of humor in her art works.
Tomasz Szrama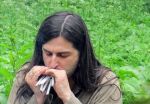 Tomasz Szrama is an artist originating from Poland living in Finland. Tomasz Szrama graduated in 1998 from Fine Art Academy in Wroclaw, Poland. Since, he has been living in Helsinki, Finland. Szrama shifts between multiple disciplines, including video, installation and performance. He uses a variety of appropriated platforms to disseminate his practice including the web, the gallery space and the found public venue. Since 2005 Tomasz Szrama has been co-organizing a monthly performance art platform in Helsinki called New Art Contact.
Willem Wilhelmus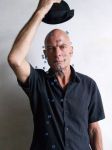 Willem Wilhelmus is an international performance artist originating from Netherlands, living in Finland: www.willemwilhelmus.com; Initiator to and curator for ArtContact, New Art Contact and Fake Finn Festival: www.newartcontact.net
"One
I make holes in the time
I once met a mad poet who was shouting around, addressing nobody in particular: Put a Finger between the Time!
I understood immediately, but it took me some twenty years to take it serious in all consequence and concentrate on just that: making holes in the time
I do this as an artist and invite others to do so as a curator-organizer of live art events"
Sofia Breimo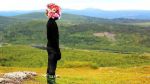 Sofia Breimo is an artist originating from Norway, living in Sweden. Sofia Breimo has since her graduation from the Performance Art Education at Svefi (Sverigefinska folkhögskolan) made Performance Art mainly together with the artist Johannes Blomqvist. She has presented her art at Stockholm Pride, the MADE-festivalen in Umeå and at Uppsala City theatre and Västerås Artmuseum. In the project "Close to the mountains" (Fjällnära) she combinated Performance Art with folkmusic and investigated Outdoorlife versus Art. Sofia works sitespecific, integrating several sences in her work.
The closeness to the audience is always central.
Dorinel Marc
Dorinel Marc is an artist originating from Rumania, living in Sweden.Dorinel Marc is educated at Konstfack and Kungl. Konsthögskolan in Stockholm. He is, in his artistic practice, focusing urgent social and political issues, where no question is to small to be examined. Dorinel Marc is also working as curator and together with Simina Astilean he is making the videomagazine Source, about contemporary Art. Dorinel has shown his work at Moderna Museet, Färgfabriken, Liljevalchs Konsthall, Alp Galleri, Artgenda (Hamburg) and Mori Art Center in Tokyo among other places. Webpage: www.sourceunlimited.org/dorinel/
Hiroko Tsuchimoto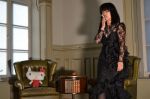 Hiroko Tsuchimoto is an artist originating from Japan, living in Sweden. Born in 1984 in Sapporo, Japan, living and working in Stockholm, Sweden. In her work she shifts between grand narratives and every day stories, highlighting the cultural construction of personal identity. She tells stories about otherness and the will to belong, based on her experiences as an Asian immigrant. She often works with topics such as globalism, exotification, tourism and identity -using color, food, language, flags, landscape, literature and songs as signifiers. Her subject matter is strongly connected with her everyday life as a foreigner. This position gives her a bird's eye view on both the Swedish -and Japanese society.
She believes art has the power to change the way we view ourselves and our society.
Katri Shaller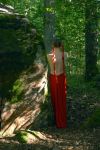 Katri Shaller is a choreographer and performance artist from the USA, living in Sweden. After attaining a Master of Fine Arts in Dance from Case Western Reserve University she went to Japan and studied butoh with Min Tanaka on his farm. Since coming to Sweden from New York 5 years ago, her work has undergone a shift, blurring the line between dance and performance, with a concentration in site-specific solo work. Physical sensation of the moving body is integral to her process of creation and performance, revealing a sense of immediacy and humanity. She is often searching for the place where appearances meet reality, and is fascinated by the power of vulnerability.
Dror Feiler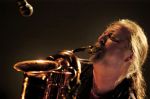 Dror Feiler is a composer and musician, artist and activist originating from Israel, living in Sweden. He moved to Sweden in 1970 in refusal "to participate in the Israeli occupation policy". Israeli-Palestinian conflict and the choice he made back in the 70 ies has been ever present in his art, music and political activities (for example, Ship to Gaza). Dror is active in political and intellectual debate in Sweden. He characterizes his artistic / political stance as "aesthetics of resistance" and using freedom of expression, other basic freedoms and rights as an instrument "to ensure that they apply to all, regardless of religion, ethnicity or gender, as a global responsibility regardless borders". Together with Gunilla Sköld-Feiler Dror Feiler runs Tegen2 gallery in Stockholm http://www.tegen2.se
Nongkran Panmongkol
Nongkran Panmongkol, artist and cloth designer originating from Thailand living in Sweden. Nongkran works in performance art, video and installation, serving and cooking. She works with values and commodities. The global market is not only global geographically – it is global in it's totality, where anything becomes a commodity, even standardization itself. There is a value in standards of living, there is a price on price itself. "Without a market, there is nothing of what we call society today." Selling and reselling, recycling and reselling recycling or recycling reselling. So, finally, what is the price we all pay?