Klas Eriksson is interested in control,power and limitations. He expresses himself through performance,
video and sculpture.
Klas Eriksson's point of departure is mass-culture, where, employing various strategies, he explores our notions of authenticity, power and artistic expression.
Klas Eriksson has always enjoyed doing his own thing, establishing a communicative immediacy, which is both visually and conceptually innovative.
His works often borrow their expressions from popular culture, subculture and various power structures.
Other sources of inspiration include:
Marina Abramovic & Ulay, Vito Acconci, Judy Chicago, Friedrich Nietzsche, Francis Alÿs, Michel Foucault, Kristin Lucas, Mike Smith and Chantal Mouffe.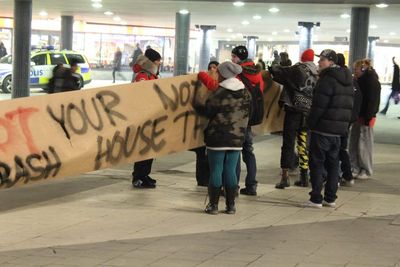 Klas Eriksson. Youths, 2011 at supermarket art fair Photo credit: Denis Romanovski