I always take the poetic image as a starting point in my work in the realm of visual poetry, object poetry, object book, sound poetry, installation and performance. The sphere of poetry helps me to build, to construct pieces and structures which I can use to approach and head into the areas of music, plastic art and action. The result of all this is an oeuvre that could be categorised and set in the field of intermediate art, a practice in which the most prominent feature is that a work can be interpreted from the angle of at least two different artistic domains, since it straddles both areas.
I would finally like to add the fact that humour can be found in many of my objects and performances, trying to make its presence felt from the interiority of the pieces.
- Bartolomé Ferrando
TEXT ON MY PERFORMANCES
I make a gesture, a movement, a particular action, mostly along with a common object or several utensils, used in an unusual way.
I make a gesture, a movement, nothing to do with narrative practice and right outside the discourse of what is known or might be guessed.
During the action, I feel my body as just another object, mentally lacking the capacity to articulate, to connect up the tools I am using.
Irony often pokes through the piece, through the action.
- Bartolomé Ferrando
TEXT ON MY PHONETIC PERFORMANCES
Sometimes the work I do has a phonetic component. The fragmented, boned, dissolved or massed word is uttered in the form of lumps, agglomerates that are devoid or almost stripped of any sense. The air of the vowels belches out the sound and leaves them standing only in their skin. The voice particles head on out in front and trail behind the language blocks to create a waxing or waning amalgam. The residues of speech maintain their own inherent musicality in a sort of parthenogenesis and often end up losing any vestige of semantic connection. But some times, on the other hand, they would rather be seen in raw flesh, sore with meaning. Irony flickers through blinking eyes, whispering its presence, but also hides behind the clamour of consonants and vowels.
- Bartolomé Ferrando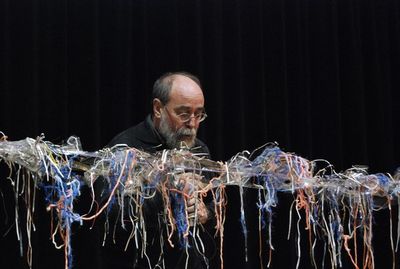 Ferrando. Línea sonora. Artnomade Chicoutimi 2. Foto Valèrie Lavoie