Agnes Nedregard is a Norwegian performance artist. She shares her observations of life's unpredictabilites and irrationality through a visceral language of images and actions in performative encounters, where our personal and cultural histories can be exposed and scrutinied. Agnes also teaches, lectures, organises events and engages in projects supporting visual performance art and artists.
Agnes will show the work "You, me and the other - ME", which is the second performance in a trilogy about encountering ourselves when meeting the other. This time you will meet ME.
"In encountering new experiences, situations and people, we always carry our own histories, and our personal and cultural judgements. In my work I explore how, in a performative encounter, these can be exposed and scrutinized. Observations of life's unpredictabilites and irrationality are shared through a visceral language of actions, images, objects and aterials. The place, but predominantly the people present, will always be part of determining the content, format and outcome of the work", - says Agness.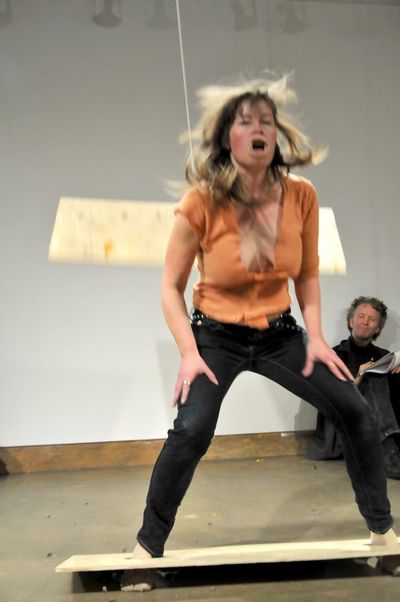 Even out the pressure, photo: Henry Chan, performance for 7a*11d International Festival of Performance Art, Toronto 2010