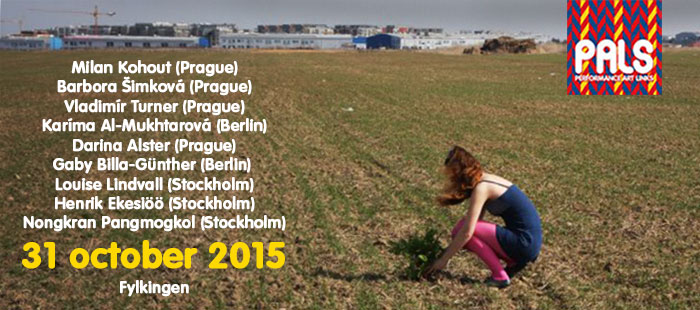 Tid: 31:a Oktober 2015 18:00-24:00
Plats: Fylkingen, Stockholm
Adress: Torkel Knutssonsgatan 2, Stockholm
Äntligen dags för den andra delen i PALS play tag – kulturutbyten med fantastiska internationella performancekonstnärer på Fylkingen!!
PALS PLAY TAG! Part Two: Czechia-Sweden är ett utbytes- och samarbetsprojekt mellan PALS-performance art links i Stockholm, Ferdinand Baumann Gallery i Prag Tjeckiska centret i Stockholm. Samarbetet är ett första steg i att knyta samman dessa två livaktiga och mångfacetterade performancekonstscener. De två samarbetande konstorganisationerna har åtskilliga år av historia och representerar den unga framväxande performancekonstscenen i sina respektive inhemska och internationella kontexter. Deras första samarbete ägde rum under "Hunger" en performancefestival den 22-23 Maj i Prag i år. Den andra delen av samarbetet i Stockholm är en del av en serie nya internationella utbyten inom performancekonst som genomförs av PALS tillsammans med andra konstnärsdrivna initiativ utomlands (ett tidigare event ägde rum på Fylkingen tidigare i år; PALS PLAY TAG! Part One: Poland-Sweden).
Missa inte chansen att se denna helkväll med tjeckiska, svenska och tyska konstnärer!
Medverkande konstnärer:
Milan Kohout (Prag)
Barbora Šimková (Prag)
Vladimír Turner (Prag)
Karíma Al-Mukhtarová (Berlin)
Darina Alster (Prag)
Gaby Billa-Günther (Berlin)
Louise Lindvall (Stockholm)
Henrik Ekesiöö (Stockholm)
Nongkran Pangmogkol (Stockholm)
Curators: Erik Wijkström, Darina Alster, Alexander Peroutka
Presenteras av :
Ferdinand Baumann Gallery
www.fbgallery.cz
PALS – Performance art links
www.palsfestival.se
Partners:
Fylkingen
www.fylkingen.se
Tjeckiska Centret i Stockholm
Date: 31 Oct 2015 18:00-24:00
Place: Fylkingen, Stockholm
Adress: Torkel Knutssonsgatan 2, Stockholm
Finally it is time for the second part of PALS PLAY TAG! - cultural exchanges with fantastic international performance artists at Fylkingen!
Pals Play Tag! is a collaborative exchange project between PALS-performance art links from Stockholm, Ferdinand Baumann Gallery from Prague and the Czech centre in Stockholm. This is a first step to connect these two vivid and diverse performance art scenes. The two collaborating art organizations have several years of history and they represent the young emerging performance art scene in their own domestic and international context. Their first exchange took place during "Hunger" performance festival from 22 to 23 May in Prague this year. The second stage in Stockholm is part of a series of new international exchanges of performance art organized by PALS with other art initiatives abroad (a previous event was held at Fylkingen this year; Pals Play Tag Part One: Poland-Sweden).
Do not miss out on the opportunity to see an entire evening of czech, swedish and german artists!
Participating artists:
Milan Kohout (Prague)
Barbora Šimková (Prague)
Vladimír Turner (Prague)
Karíma Al-Mukhtarová (Berlin)
Darina Alster (Prague)
Gaby Billa-Günther (Berlin)
Louise Lindvall (Stockholm)
Henrik Ekesiöö (Stockholm)
Nongkran Pangmogkol (Stockholm)
Curators: Erik Wijkström, Darina Alster, Alexander Peroutka
Presented by:
Ferdinand Baumann Gallery
www.fbgallery.cz
PALS – Performance art links
www.palsfestival.se
Partners:
Fylkingen
www.fylkingen.se
Czech Center in Stockholm